Miracle Mile En Blanc Guest Information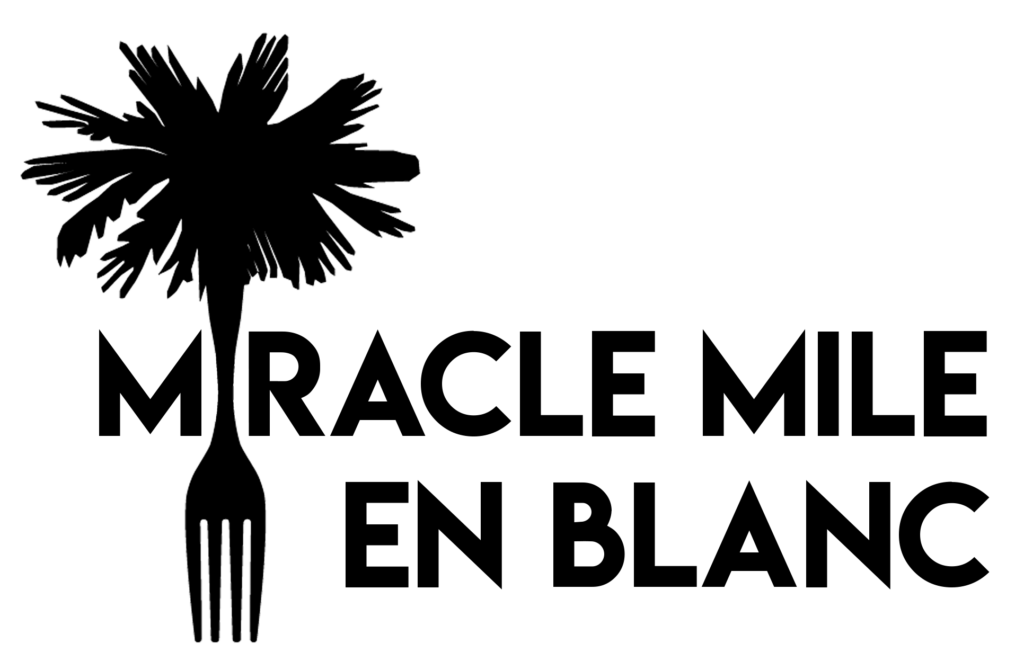 Event Basics:
Location: Tuxedo Court (Check In Will Be At Tuxedo Court & Pacific Avenue)
Date: Saturday, June 8th, 2019
Time: Doors Open @ 6pm, Event Ends @ 10pm
Program For Evening: (All Times Approximate)

6pm-10pm = Photo Zone Open
6pm-8pm = Calli Grace Performing On Stage
6pm-7pm = Check-In, Appetizer & Cocktail Hour
7pm = Dinner Starts
8pm-10pm = The Penetrators Groove Band Performing On Stage
9pm = Silent Auction & Raffle Closes, Last Call For Bar
10pm = Event Ends
---
Required White Dress Attire:
The dress code for Miracle Mile En Blanc has only three simple rules: chic, white, and elegant. This means no ivory, no off-white, and no beige. Originality is always encouraged, as long as it stays stylish and tasteful.
No black/dark or "color splashes", all accessories should either be white or metallic (silver preferred but gold acceptable).
As shoes can become statement pieces for all-white ensembles, it is understandable that guests will want to know how far they can push the code. MMEB guests are not allowed to wear dark or colored shoes. While white shoes are recommended, metallic (silver preferred but gold acceptable), nude, cream, and off-white shoes are also acceptable.
Women, bring two pair of shoes; your cute heels and your cute flats. There will be tons of dancing.
FAIR ADVANCE WARNING: WE WILL HAVE WHITE SPRAY PAINT AND WHITE DUCT TAPE AT THE EVENT CHECK IN AREA & WILL NOT BE AFRAID TO USE IT TO MODIFY ATTIRE IF NECESSARY! LOL
---
Other Event Details
Parking:

For general admission guests, table sponsors & supporting sponsors parking is anywhere around The Mile, 2-3 hour parking time limit restrictions will not be enforced during the event.
VIP parking for our Major Sponsors will be in the parking lots on Beverly Place, enter at Beverly Place & Central Avenue. Make sure to bring your VIP parking passes, you will not get through the barriers without it.
What Is Included In Your MMEB Ticket:

Your admission to the event and an assigned seat at one of the dining tables.
Concert musical entertainment provided by two performers; Calli Grace during our appetizer/dinner hours & The Penetrators Groove Band during our dessert & dance hours.
A fantastic meal provided by numerous Miracle Mile restaurants including appetizers, entrées, sides & desserts. Your internationally inspired meal will be served "food station" style with various stations set up around the event space.
Non-alcoholic beverage station.
Access to our photo zone area.
Access to the silent auction and raffle.
What Is NOT Included In Your MMEB Ticket:

All alcoholic drinks, we will have a full bar available and will be able to accept cash or credit card.
Raffle ticket purchases.
Silent auction purchases.
Who is the benefactor of this fundraising event?

This is a fundraising event for the Miracle Mile Improvement District. Some proceeds will go towards general beautification efforts throughout The Miracle Mile. We also have a vision and a plan (we recently applied for a $2.2M Prop 68 grant) to renovate and create a community events plaza at Tuxedo Court so some of the proceeds from this event will go towards our efforts to get that project "shovel ready". Thank you for all your support!!!