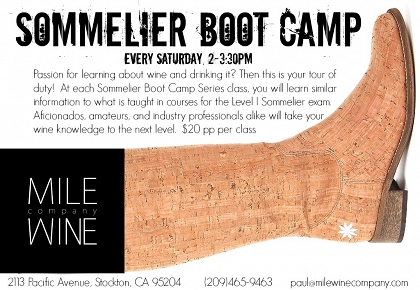 Sommelier Boot Camp At Mile Wine
Certified Sommelier Paul Marsh invites wine aficionados, amateurs, and industry professionals alike to learn about wine!
Come experience Mile Wine Company's weekly Sommelier Boot Camp Series every Saturday from 2-3:30pm. If you have a passion for learning about wine — and importantly, drinking it, this is your tour of duty. At each Sommelier Boot Camp Series class, you will learn similar information to what is taught in courses for the Level I Sommelier exam. You won't earn the title of "Sommelier," but you will take your wine knowledge to the next level. $20 per person per class. Includes 3-4 wine tastings and class materials. What is a Sommelier, you ask? A Sommelier is a trained and knowledgeable wine professional, normally working in fine dining restaurants, who specializes in all aspects of wine service as well as wine and food pairing. The role is much more specialized and informed than that of a wine waiter: In fine dining today the role is strategically on a par with that of the executive chef or chef de cuisine.
Find out about Mle Wine's Company's Wine Tasting Club–Join any time! $30/month. 2 bottles. Choose from 4 at our Second Tuesdays tasting from 5:30-7:30pm. Receive discounts on other stuff. Be happy. Call for more details or check out Mile Wine Company's website for details.